DELFTACOPTER is a hybrid electric UAV with exceptional efficiency both in hovering and fast forward flight. It is equipped with state of the art on-board stereoscopic wide field of view computer vision.
The design combines the expertise of the MAVLab in the areas of design, propulsion, aerodynamics, control, hybrid UAV, transitioning flight, battery technology, autopilot design and computer vision based navigation.
The hovering efficiency is maximized through the use of a single large rotor. Achieving efficient forward flight required the design of a fully optimized propeller blade design, an efficient RPM controller and a redesigned rotor head. The biplane design resulted from combined structural, aerodynamic and control requirements in both hover and forward flight. The on-board vision is based on the Parrot S.L.A.M.dunk with its NVidia Tegra processing and fish-eye stereo camera system.
The DELFTACOPTER can be operated beyond line of sight, through its Iridium satellite communication link. In fact, through this link it can be operated from any location on earth.
The DELFTACOPTER was designed to participate in the 2016 Outback Medical Challenge, an Australian competition promoting the application of UAV in medical and rescue applications. This year's edition requires a UAV to pick up and bring back a blood sample of an ill-fated person called "Outback Joe" located at an inaccessible roughly known location 30 kilometer away remote location with unknown terrain.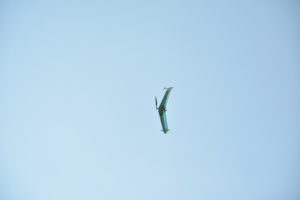 Figure: Efficient fast forward flight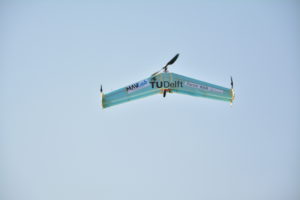 Figure: Efficient hovering thanks to large single propeller.
Property description
Value
Flight

Cruise speed

45 knots at 300 watt

Most efficient speed

35 knots at 230 watt

Maximum speed

50 knots

Physical

Weight

4kg

MTOW

4,5kg

Wing area

0,496 m

2

Wing loading

8kg/m

2

Span

1,54m

Length

0,6 m

Height

0,4m

Energy

Power usage in hover

280 watt

Main battery energy

10000mAh ~ 225 Wh

FTS battery energy

250mAh ~ 2Wh

RPM in forward flight

450 rpm

RPM in hovering flight

1550 rpm

Datalink

Datalink 1 protocol

Iridium satellite communication

Datalink 1 range

Global

Datalink 2 protocol

900 MHZ long range communication

Datalink 2 range

40km

Weather properties

Maximum wind speed

30kts

Maximum precipitation

Light rain