DroneClash, the first ever counter-drone competition, is announcing two of the counter-drone measures that teams must tackle during the game. The DroneClash, which takes place on 4 December in The Netherlands, aims to generate new counter-drone technology. It is organised by the TU Delft Micro Air Vehicle Lab (MAVLab) in collaboration with the Dutch National Police to incorporate drones in our lives in a good and safe way.
Counter measures
In the video above the first two countermeasures are demonstrated. The video shows a quick demonstration of a very bright light, strategically placed to over-expose the cameras of a drone. Then an entanglement countermeasure demonstration is given using a drone net-cannon. These and upcoming countermeasures are inspired by real-world available and considered hardware for actual counter-drone measures, for instance by law enforcement agencies such as the police.
Hallway of Doom Death and Destruction
The countermeasures will be placed in the Hallway of Doom Death and Destruction, as show below in an artist impression of the layout of the competition. The hallway is designed to test the resilience and originality of the teams, and the viability of the countermeasures for real world deployment.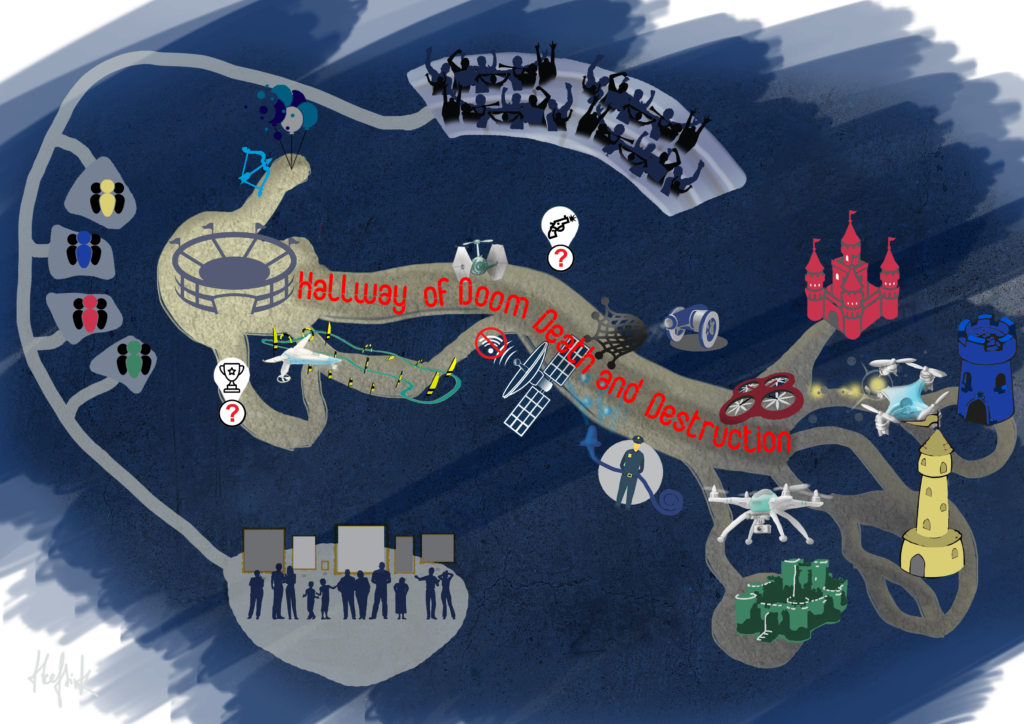 Teams will be able to disable specific counter measures by means of challenges. These challenges will also be announced together with the other countermeasures.
Teams Deadline
Teams can still subscribe. The deadline is 15 September 2017.
For more details and team registration check droneclash.org
Or follow us at:
https://www.facebook.com/DroneClash/
https://twitter.com/droneclash
https://www.youtube.com/droneclash