From September 12th to 16th, we hosted IMAV 2022 in the Netherlands for the second time. The whole event featured two days of scientific conference and three drone competitions.
It was the first physical IMAV since 2019, and it was great to see the small-drone community together again. At the conference, we had 25 scientific articles on topics ranging from audio-based obstacle avoidance to recyclable drone design.
Scientific Conference
There were five papers that got nominated by the reviewers for the best paper award:
· "Seeing with sound; surface detection and avoidance by sensing self-generated noise", by Simon Wilshin, Stephen Amos and Richard Bomphrey.
· "Deep Learning-based Flight Speed Estimation using Thermal Anemometers", Ze Wang, Jingang Qu and Pascal Morin.
· "Evaluation of drag coefficient for a quadrotor model", Gautier Hattenberger, Murat Bronz and Jean-Philippe Condomines.
· "INDI Control for the Oblique Wing-Quad Plane Drone", Dennis van Wijngaarden and Bart Remes.
· "Using trajectory oscillation timing improves in-flight odometry based solely on optic flows", Lucia Bergantin, Charles Coquet, Amaury Nègre, Thibaut Raharijaona, Nicolas Marchand and Franck Ruffier. 🥇
The last-mentioned paper has the 🥇-symbol, because it received the "Best Paper Award". Lucia Bergantin et al. propose a novel strategy for performing visual odometry with optic flow. By combining optic flow with a motion model and performing active height oscillations, drones are able to more accurately track the distance they fly. This is not only useful for small drones, but is also a new hypothesis that can explain how flying insects are able to perform odometry so well. 🐝
A "special award" was given to the paper by Dennis van Wijngaarden and Bart Remes, for proposing a novel drone concept – a drone that can rotate its wing to enable vertical take-off and still perform efficient forward flight as a normal fixed wing drone.
Nanocopter Challenge
In the Nanocopter AI challenge the teams demonstrated the AI they developed for Bitcraze AB's 35-gram Crazyflie nanocopters to perform vision-based obstacle avoidance at increasing speeds. The drones flew around in our Cyberzoo, avoiding a range of obstacles, from walls to poles and artificial plants. The drones were primarily scored on the distance they covered in the limited time but could gain extra points when flying also through gates. 🏁
We saw many great competition entries and congratulate all the teams! The three highest ranking teams were:
1. PULP team 🥇
2. Black Bee Drones 🥈
3. Skyrats – intelligent MAVs team 🥉
🥇 The first place was obtained by the PULP team, with, among others, Lorenzo Lamberti, Elia Cereda, and Lorenzo Bellone. They demonstrated a slimmed-down deep neural network running onboard the CrazyFlie GAP8 processor, which enabled the drone to fly a full 5-minute run without collisions! This team is very advanced in deploying networks on tiny nanocopters. Their efficient approach may soon enable the deployment of multiple nets at the same time, allowing them to tackle even more complex tasks – representing a substantial step for AI at the edge.
A special award was granted to the CVAR-UPM team, among whom Rafael Pérez Seguí, David Pérez Saura, Pedro Arias Pérez, Miguel Fernandez Cortizas, Javier M., and Pascual Campoy, who made the most successful method for passing through the gates in the obstacle circuit 🔲 Autonomous drone racing with tiny, 35-gram nanocopters seems to be just around the corner. 😏
This competition was sponsored and supported by Bitcraze AB. A special prize was awarded to the winning team by Flapper Drones.
Greenhouse Challenge
Held at Tomatoworld in Honselersdijks, the greenhouse challenge, aims to push the state of the art for drones that navigate autonomously in greenhouses. Whereas current drone prototypes typically fly over low-growing crops, in this competition the teams developed solutions for autonomous drones to inspect a tomato greenhouse 🍅 as quickly as possible. The drones had to cope with the very narrow flight area between the tomato plants.
We had several great competition entries, both from academia and industry! The three highest ranking teams were:
1.    Corvus Drones 🥇
2.    SELFF 🥈
3.    Ciiba 🥉
🥇 The first place was obtained by Corvus Drones, a Dutch company developing autonomous drone solutions for greenhouses. They were able to fly and take high-res pictures of several subsequent rows of tomato plants, all the while also logging the CO2 concentration 💭, temperature 🌡, and humidity 💧 in the greenhouse! Having all such information in near-real-time can become a real game-changer in the greenhouse industry.
It was really an exciting event for us, as there were many competition attendees: 281 people forming a great mix between teams, drone researchers, and experts in the agricultural domain. The event also featured some great talks and demonstrations by technology innovators in the drone and greenhouse sector: PATS Indoor Drone Solutions, Track32, Flapper Drones, Corvus Drones, Royal Brinkman, Bitcraze AB, and Avular.
A special award was given to the PULP team (with among others: Lorenzo Lamberti, Elia Cereda, and Lorenzo Bellone), who demonstrated that with the right type of AI, even Bitcraze AB's 35-gram CrazyFlie nanocopter can autonomously fly in between the tomato ranges. 😎
The greenhouse challenge was sponsored by Gemeente Westland, RoboCrops, and the TU Delft AgTech Institute.
Package Delivery Challenge
One of the major applications expected by the public is autonomous package delivery by drones. In this outdoors package delivery challenge, the teams had to demonstrate drone designs that can fly as far as possible while being as light as possible and able to deliver packages in increasingly difficult places. They even needed to deliver a package on a driving truck! 🚚
Though the conditions were difficult with a lot of wind, the following teams persisted and took the podium:
1. ENAC 🥇
2. Team Cigogne (INSA Strasbourg)🥈
3. Maverix (RWTH Aachen University) 🥉
🥇 The first place in the challenge was obtained by École Nationale de l'Aviation Civile (ENAC), Toulouse, France. They flew multiple drones at the same time, with a quadrotor drone delivering a package autonomously on the driving truck and a lightweight tailsitter drone flying extra-long distances thanks to a thoroughly optimized design specifically for the competition. Congrats to Gautier Hattenberger, Murat Bronz, Fabien Bonneval, Xavier Paris, Florian Sansou, Luiz Fernando and Alexandre Bustico!
A special award was granted to the AKAMAV team, from the University of Braunschweig, Germany. Their drone was able to make an extremely high-res map of the environment, which allowed easy identification of the ArUco markers that were used to indicate the package delivery locations. Congratulations Alexander Kern, Jakob Tröschel, Arne Schulz, Junbo Li, Josias Cierpka and Bennet Hetzel!
This challenge was sponsored by Unmanned Valley and Dronisos – Drone Light Shows, who gave an extremely interesting keynote speech. Thanks Laurent Perchais, Rémi POTET and Corentin Giraud!
We would like to thank…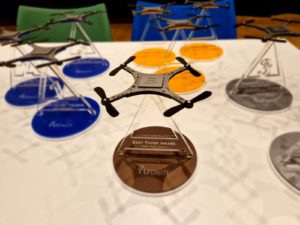 The image to the left shows the beautiful awards for the competitions, designed and made by Laserbeest in Delft.
We thank all the sponsors of the IMAV 2022: Gemeente Westland, RoboCrops, Bitcraze AB, Unmanned Valley, Office of Naval Research, US Army, Dronisos – Drone Light Shows, Flapper Drones, TU Delft Robotics Institute, and TU Delft AgTech Institute.