Saturday March 16th 2019: heavy rain and strong winds. No matter for the 500 odd people who gathered in Katwijk's Hangar 2 for DroneClash 2019. Sheltered from the elements, they were fully focused on the DroneClash arena. It was here, in this dramatically-lit goldfish bowl of sorts, that a dramatic experiment in drone and counter-drone technology was unfolding.
In this second edition of the world's first counter-drone competition, nine international teams deployed drones of their own design. After the official opening by Prince Pieter-Christiaan van Oranje, it was action all stations!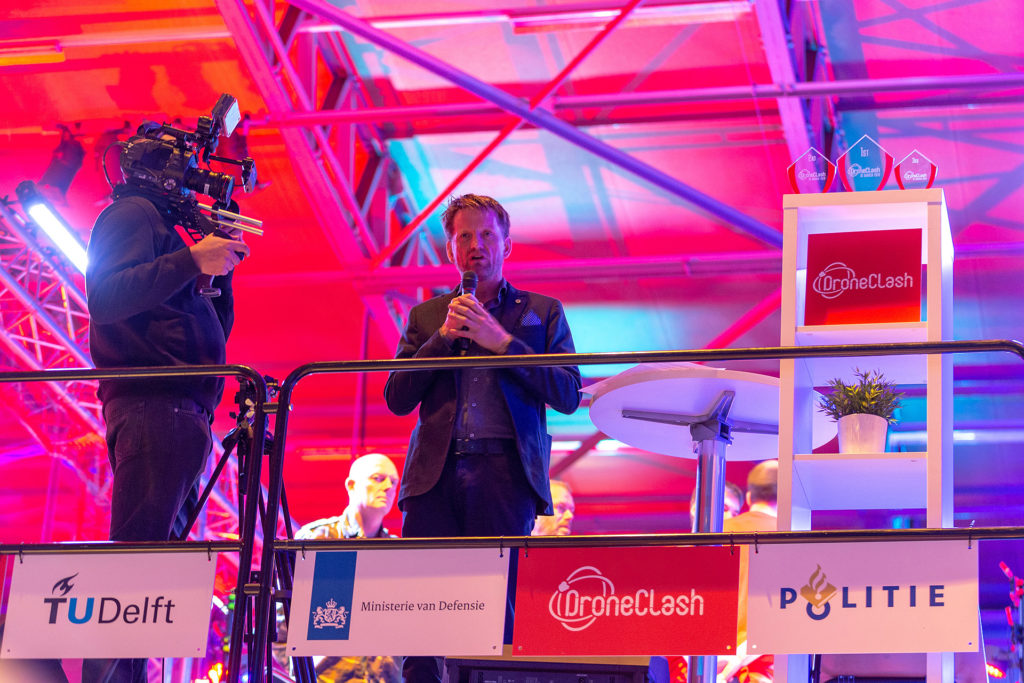 Starting in opposing sections of the arena, teams had to navigate the so-called Hallway of Doom, Death and Destruction – an obstacle course equipped with a range of counter-drone measures – before doing battle with each other. Drone on drone. Each team fielded one Queen drone and as many fighter drones as they liked. The aim of the game was to knock down the opposing Queen for 10 seconds.
With an eclectic mix of teams, made up of university students and drone researchers, on the one hand, and drone entrepreneurs and First Person View (FPV) champions, on the other, a wide range of technologies and counter-drone strategies were put to the test. It was specular and exciting for sure, but what did we learn from the day? Which counter-drone measures were the most promising? And crucially for law-enforcement agencies such as DroneClash 2019 sponsors, the Dutch Ministry of Defence and the Dutch Police, are we any closer to being able to take down a rogue drone? Here are a few of the 2019 take aways:
Ramming is a forceful counter-drone strategy
Those competing at DroneClash 2019 had done their homework. Having seen how effective brute force was as a tactic in 2018, many teams focused on building super-strength drones. They used these tough beasts to cannon ball the opposition. Copious amounts of carbon fibre and aluminium were in evidence, meaning that many of these ramming drones remained in tact after repeated high-impact collisions. Some battles were epic in nature, such as the memorable Bluff vs Slunse semi-final. In this prolonged game of cat and mouse, the opposing fighters battered each other into oblivion. Essentially it came down to a game of last man (or should that be last Queen?) standing.
Life limiting condition: battery power
Indeed, with all fighters down, teams tried desperately to conserve their Queen's battery power by hovering low to the ground. Multiple bouts, including the final clash between Slunse and Dipol, became endurance tests. Battery life proved to be the decisive factor.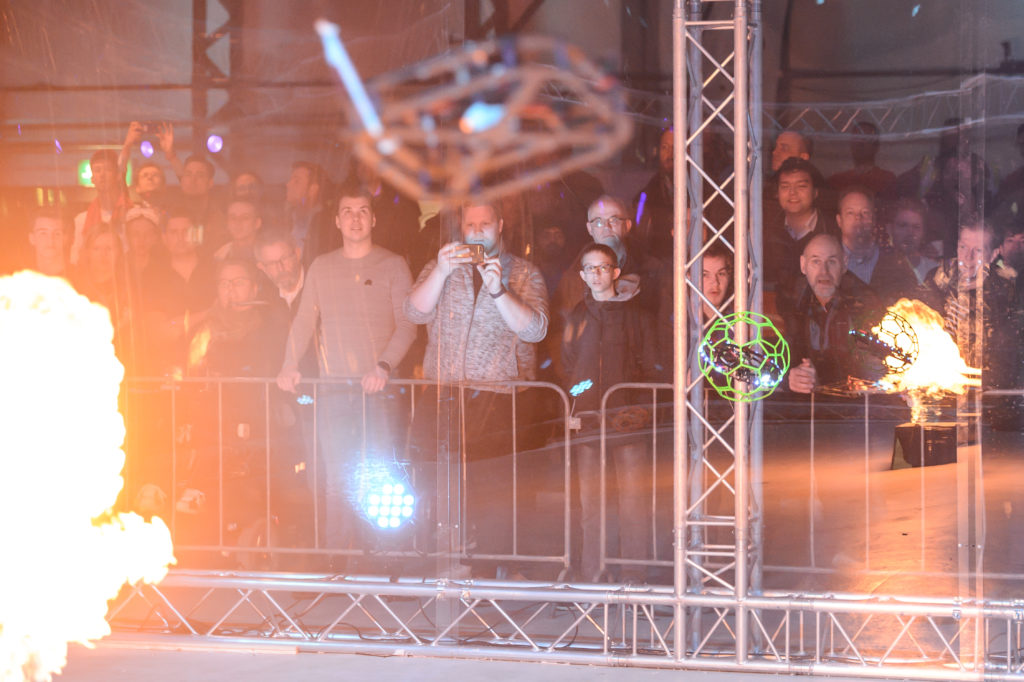 Bigger isn't always better
While some may have thought that big would be best when it comes to DroneClash, this wasn't necessarily the case. For one, bigger designs were a drain on vital battery power. Additionally, smaller lighter drones, proved far more difficult to hit. If they were hit, they tended to bounce rather than break. A fact which was also proven out by a DroneClash side-event. Big kids and little kids alike were given the chance to down a drone with everything from tennis balls to pancakes. No such luck! The drone flew on, completely unscathed by the enthusiastic projectiles of the children.
An interesting tactic used by team Blue Phoenix from Delft University of Technology was to encase a tiny Queen drone in a defender drone. The defender drone was sacrificed for the Queen, who rose regally from her ashes.
The (spherical) shape of counter-drone tech
Balls proved to be all the rage at DroneClash 2019. And for good reason. The geodesic spheres deployed by teams Bluff by Flyability, Slunse and Spinfast proved resilient. They bounced back from repeated batterings to fly again.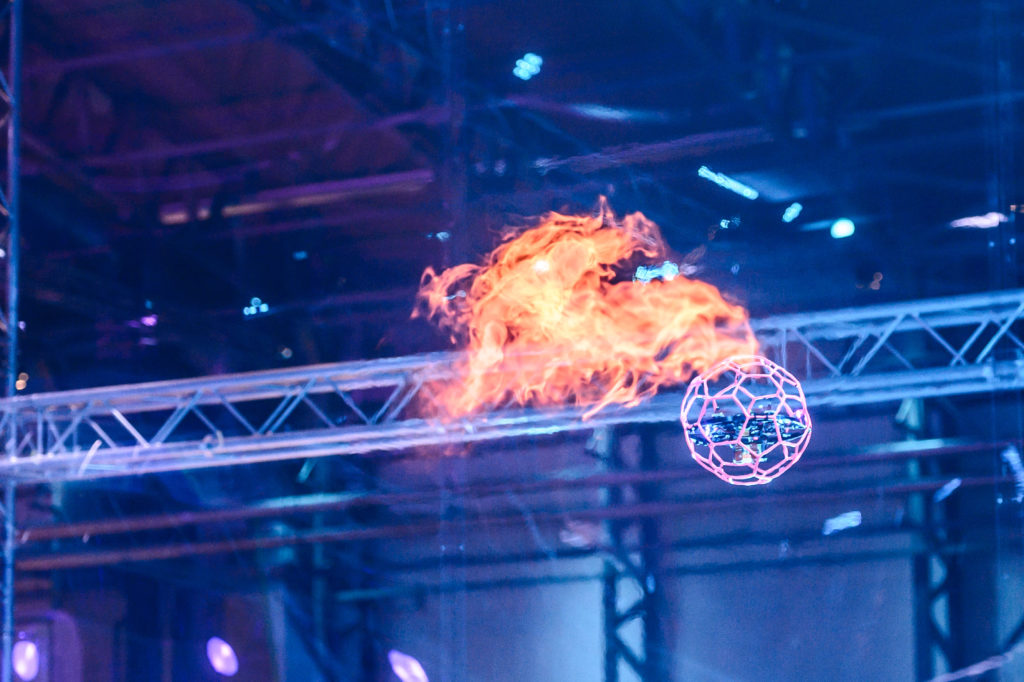 Fish Fight
Fishing proved a source of inspiration. Nets were fired in the Hallway of Doom, Death and Destruction. They were also also deployed by team Slunse and most effectively, by team Dipol which achieved the difficult feat of catching a rival drone. In a mere 24 seconds. But Germany's Dipol didn't content itself with nets. William Thielicke and his team took the the fishing theme a step further, by creating a weapon designed to entangle their opponent's propellers. Their weapon was made of fishing tackle and won Dipol the Prize for Innovation.
Autonomous flying
With all the variables of the DroneClash arena, autonomous drones are a big ask. Even in controlled environments, autonomous UAVs are still in their infancy. Nonetheless a number of teams took on this challenge, not least team Bluff by Flyability. Upon winning a battle, Bluff returned to the "operating table", only to later realise that one of their drone was still buzzing in the arena. On autopilot. For this, Bluff was awarded the Prize for the Autonomous Flying.
Hacking
DroneClash 2019 had high hopes for hacking, having seen its effectiveness as a counter-drone strategy in 2018. Unfortunately the challenge of hacking down a TinyWhoop drone which periodically flew around the hangar was only taken up by a handful of white hackers. These guys were no match for this small but mighty consumer drone.
Tesla Coil
New at DroneClash 2019 was the Tesla Coil, provided courtesy of energy entrepreneur, Wouter Smit. Despite the spectacular crackle and the periodic sparks, the flying skills of the DroneClash teams were such that they managed to avoid immediate damage. That said, it may have been responsible for the early demise of some drones, which suffered damage to their Electronic Speed Controllers, causing their motors to burn down more quickly.
DroneClash 2019: evolution not revolution
This experiment in counter-drone technology can be chalked up as a big success for Delft University of Technology's Micro Aerial Vehicle Laboratory (MAVLab). Not only was it a thoroughly entertaining and spectacular day, with teams Slunse, Dipol and Speeddrones taking 1st, 2nd and 3rd prizes respectively, there were also multiple learnings.
There is not yet a silver bullet for the authorities to safely and effectively down a drone. However, by bringing together the bright minds and enthusiasm of drone developers and hobbyists with the counter-drone industry and the end-users, counter-drone measures can be tested and fine-tuned.
In the words of the University's Kevin van Hecke, one of the brains behind the competition:
"The solution we are working towards is some sort of mechanical eagle. This year were saw DroneClash competitors replicate the flying speeds and ramming force of birds of prey. But we still have big steps to take in terms of grasping and safely depositing a rogue drone. We will continue to organise future DroneClash events and evolve the rules to push counter-drone innovation further, faster."
Enjoy a taste of the day in our short recap of DroneClash 2019.