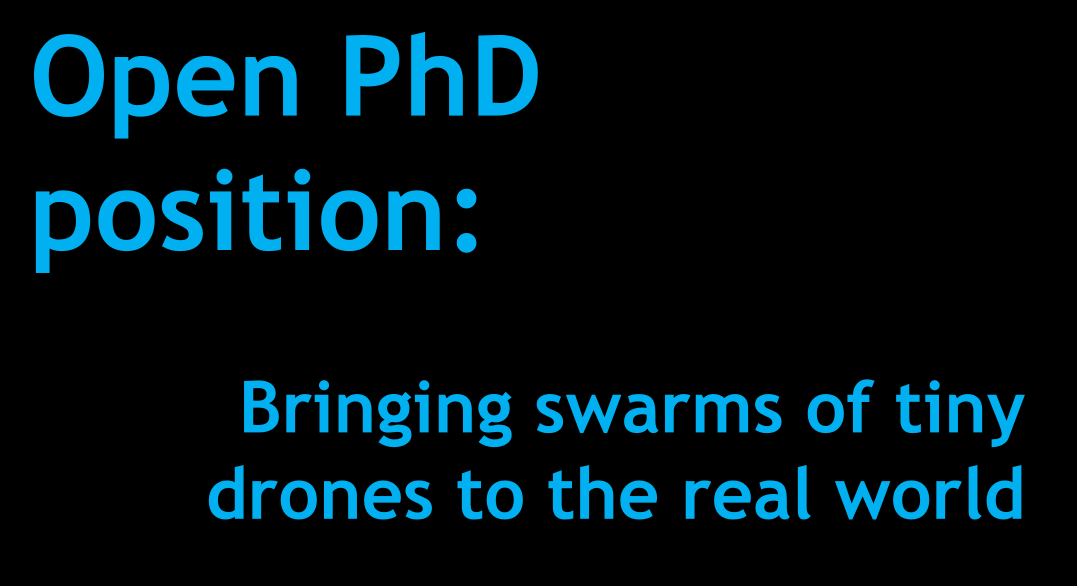 The Faculty of Aerospace Engineering of Delft University of Technology, the Netherlands, announces a vacancy for one Ph.D. student within the project:
Bringing swarms of tiny drones to the real world
Description of the project:
The primary goal is to develop a swarm of tiny drones that can operate fully autonomously for long periods in an indoor environment. Considerable progress to this goal has been made over the past 10 years by the MAVLab (http://mavlab.tudelft.nl/), including the development of extremely light-weight vision systems as on the fully autonomous 20-gram DelFly Explorer [1], and methods for drones in a swarm to localize with respect to each other by means of small onboard communication chips [2,3]. Although this and other work in the literature has provided a basis that could be used in a fully autonomous, long-term operating swarm of tiny drones, there are still many challenges on the way there.
For the current project, we aim to develop a system that will allow tiny drones to fly autonomously in an indoor space, where they should be able to record onboard their observations of the space in which they fly. The drones should be able to return to a base station in order to recharge and upload their observations to a central computer, which collects the data for the application at hand. The drones will have to be able to explore their environment, return to base, avoid obstacles, and coordinate with other drones. The algorithms used onboard of the drones will likely be heavily bio-inspired and will involve machine learning components.
The project will be carried out within the Control and Simulation section of the Faculty of Aerospace Engineering, with a big experimental component, testing out the developments in a real-world environment. The start of the project will focus on bringing the navigation components of the drones to a Technological Readiness Level (TRL) of 6, by the definition of Horizon 2020, i.e., "technology demonstrated in relevant environment". This level of robustness, which will involve significant flight testing, is necessary to start on subsequent parts of the research plan, where we envisage a TRL of 4-5. The supervisors will be dr. Guido de Croon and ir. Christophe De Wagter from the Micro Air Vehicle Laboratory.
What do we ask?
We are looking for a candidate with an MSc degree in an area such as Robotics, Aerospace Engineering, Artificial Intelligence, Computer Science, Mechatronics, Control Systems Theory, or a similar field. The candidate is expected to be passionate about developing autonomous robots, not only focusing on the AI or control algorithms, but also on hands-on development and flight testing. Programming experience is required in Matlab/Python and/or C/C++. It is very much appreciated if the candidate has experience working with or designing electronics and / or drone hardware.
Previous experience with robotic or mechatronic systems and their control is an asset. Please note that the Ph.D. candidate will work within a team with ample experience in design and prototyping of tiny drones, autopilots (in particular Paparazzi) and micro-electronics as well as with bio-inspired artificial intelligence and control. The candidate must have strong analytical skills and must be able to work at the intersection of several research domains (artificial intelligence, control, mechatronics, mechanical design, aerospace). A very good command of the English language is required, as well as excellent communication skills.
What do we offer?
We offer the opportunity to do scientifically challenging research in a multi-disciplinary research group. The appointment will be for a period of 4 years. As an employee of the university you will receive a competitive salary, as well as excellent secondary benefits in accordance with the Collective Agreement (CAO) of the Association of Universities in the Netherlands (VSNU). Your gross salary in the first year will be according to the first step of the standard Dutch salary scale for a PhD candidate, which is currently € 2,325.00 gross per month (approximately € 1,856.00 net) excluded the 30% rule. In the second year, your salary will be increased to € 2,709.00 gross. This salary is to increase further in your third and fourth year. Assistance with accommodation can be arranged.
How to apply?
Submit your application to dr. Guido de Croon (email: g.c.h.e.decroon@tudelft.nl) before May 21st 2019with "Swarming PhD" in the subject. Include a cover letter along with a detailed curriculum vitae, a separate motivation letter stating why the proposed research topic interests you, electronic links to or copies of a few selected publications (if applicable), an overview of possible "hobby projects" in the area of robotics / drones, the summary of your MSc thesis, your MSc and BSc course programs and the corresponding grades, names and addresses of two to three reference persons, and other information that might be relevant to your application. Job interviews will take place from May 21 – June 1 2019.
References
[1] De Wagter, C., Tijmons, S., Remes, B.D.W., and de Croon, G.C.H.E. (2014, May). Autonomous flight of a 20-gram flapping wing mav with a 4-gram onboard stereo vision system. In 2014 IEEE International Conference on Robotics and Automation (ICRA) (pp. 4982-4987). IEEE.
[2] Coppola, M., McGuire, K. N., Scheper, K.Y.W., and de Croon, G.C.H.E. (2018). On-board communication-based relative localization for collision avoidance in Micro Air Vehicle teams. Autonomous Robots, 42(8), 1787-1805.
[3] van der Helm, S., Coppola, M., McGuire, K. N., and de Croon, G.C.H.E. (2019). On-board range-based relative localization for micro air vehicles in indoor leader–follower flight. Autonomous Robots, 1-27.